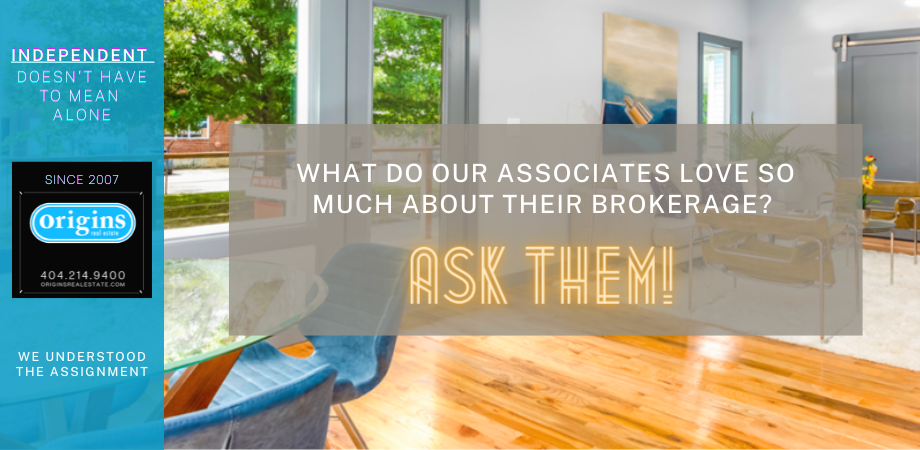 WE LOVE OUR AGENTS AND PROVE IT DAILY WITH EXCELLENT SUPPORT!

Origins is as successful as it is today because it is peopled by hardworking, diligent and above all, passionate Agents and Staff. We are always seeking like-minded teammates and when found we compensate them with a gracious commission split.
Connector.

80/20 CAP at $9000 - *$65/mth

100% to the agent once the CAP is achieved!
Less any FMLS, E&O cost. *Includes GAMLS

Connector.

INCLUDED IN ALL PLANS

This is an Feature List Item that is part of an Feature List. Notice the connector between the three graphics to show that they are related.
Premium+ Website>

Access to both FMLS & GAMLS

24/7 office access

KV Core CRM

Google Workspace virtual business system

Facebook, Instagram, Twitter post design support

Contract to close concierge

Office field trips

PC & Apple office systems

Continuing Education classes

Weekly market data reports by ZIP, 70+

Flyers, brochures, cards, invitation, etc.. design support

For Sale loaner yard signs
Open House App

Access to preferred attorneys

Legal descriptions

Virtual contract management and storage

In-house loan officer

Personal lead capture website

e-Signing platforms

In-house notary service

High speed scanners & printers

HUD certified brokerage

Agents are paid at the closing table

Origins branded email address

Supra loaner lock boxes
*Commercial and Property Management plans are available, just ask.
Come work with us and make a difference in your life and in the lives of others!
When asked, "Why origins?"
"Origins focuses on putting the client first, provides a professional environment to work in, and encourages a collaborative work environment where all agents are willing to assist another agent."Chip Miller
"I wouldn't be anywhere else. Solid reputation for strong contracts, client protection and unparalleled client service."David Garrison
"There's no other company that supports without controlling, associates the agent's personality and strengths while pushing us to stretch ourselves, and successfully team builds by listening to what we as agents have learned then helping us relay that important information to each other. We are a team of Realtors that aren't made to feel competitive within our group, but are actually encouraged to support and help anyone on the Origins team."Leigh Lynch
"Respect of culture, community and roots. This respect translates to the client and customer in maintaining a deep understanding of the client's goals for the biggest transaction of their life. Being a part of Origins allows me the support to provide that next level of service and attention."Will Martin
"At Origins, we provide our clients with the best real estate experience because we are supported by topnotch staff and leadership. Our agents aren't just knowledgeable–they're incredibly kind people who love what they do." Serene Varghese
"Even prior to being licensed, Origins treated me like one of their own with encouragement, support and a genuine sense of caring. When come to working with my clients Origins shares the same core beliefs." Bill Haag
"I chose Origins because of its reputation for being a close knit real estate family. It's a place where everyone is willing to help each other succeed so that clients and their agents are taken care of and have plenty of support." Dustin Williams
"I love working with collaborative people who make complicated things simple." Megan Kiser
" The company offers extensive experience, mentorship, and a positive, friendly environment. I have confidence in their backing and support." Brendan Callahan Fitzgerald